WhatsApp is yet again changing its privacy policy on May 15th for all users after it failed to change it on February 8th due to public outcry.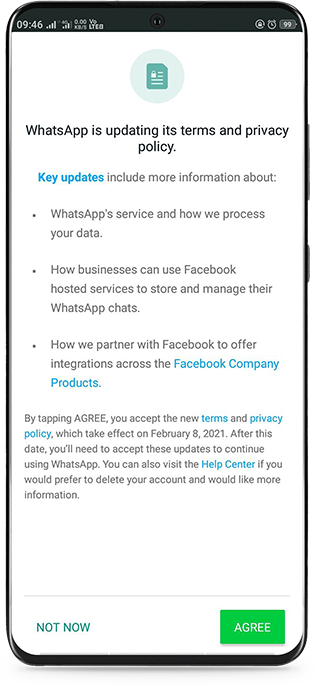 The main concern with the new amendments targets messages between businesses on the platform. When users agree to the new terms, Whatsapp will now have access to share personal user details such as phone numbers and transaction data. Furthermore, WhatsApp already shares personal data with its parent company, Facebook.
If users do not agree to the new privacy policy, they will not be banned from the platform right away. Instead, Whatsapp will continue to restrict and limit what features can be used.
That will continue until the user decides to accept the new terms or they will be kicked off the platform. Ultimately, WhatsApp gives their users an ultimatum; either allow a greater breach in users' personal information or get banned from the platform.

At Pravica, we do not get any access to user's personal information. Each individual has full control of their privacy. With our groundbreaking platform, users have access to Pravica through their identity rather than an account. This allows for ultimate privacy on the platform as well as not requiring any personal information to be used.
Pravica's number one priority is to ensure user privacy. That is achieved through many different outlets, such as using Blockchain technology and allowing every user to have complete control of their data. Here at Pravica, we care about your privacy more than anything else.