WISE is an open-source mobile application that performs several simultaneous services to facilitate the use of tedious, yet crucial tools for users and developers.
WISE is an authenticator, identity management, and keys management solution accessible by any mobile dApp built on Stacks – an open-source network of decentralized apps and smart contracts built on Bitcoin. Stacks infrastructure is used to secure authentication and transactions.
WISE provides users a seamless onboarding experience for their decentralized authentication.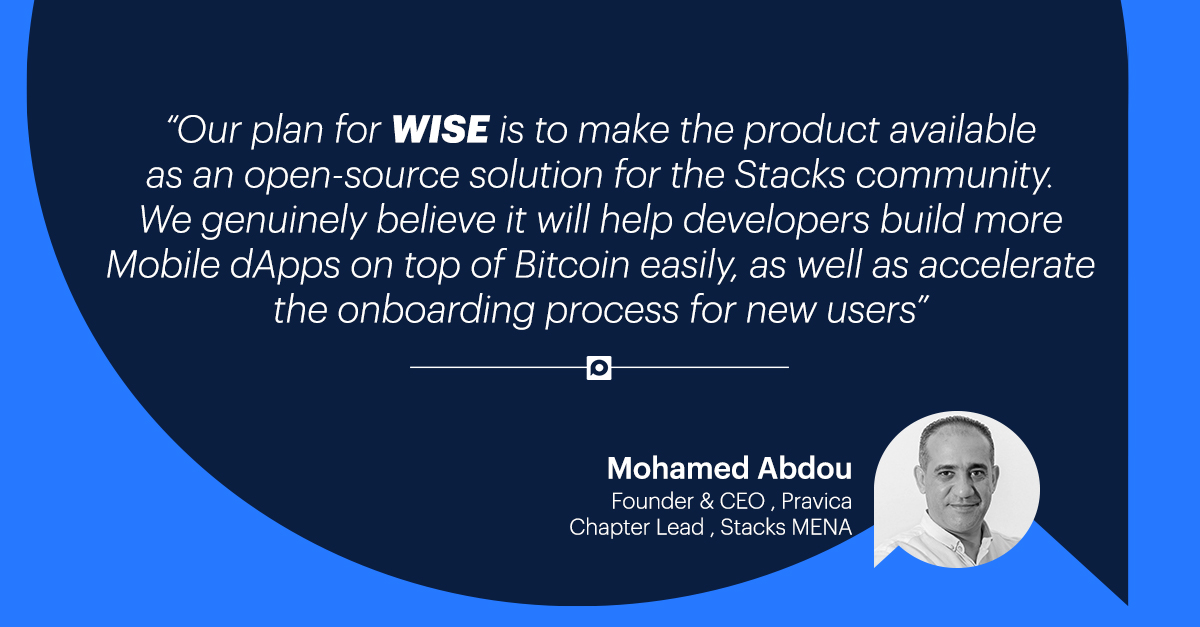 "Our plan for WISE is to make the product available as an open-source solution for the Stacks community. We genuinely believe it will help developers build more Mobile dApps on top of Bitcoin easily, as well as accelerate the onboarding process for new users".

Mohamed Abdou, Founder & CEO
WISE is powered by Pravica- a full-suite communication platform built on Blockchain and secured by Bitcoin, nonetheless, we believe in open source and that was our key motive to develop WISE as a completely separate entity and application.
We continuously strive to offer users data privacy, security, and above all a trusted open source app with complete transparency to review codes and guarantee that users' keys are safe.
Why WISE?
With the use of WISE dApp, users can create and restore their decentralized digital identities. We believe that everyone has the right to own their digital identity, one that more securely and privately stores all their personal data.
WISE users have complete control over their digital data, eliminating the need for third parties. Without the user's consent, no data can be shared, and the user can choose to whom and what data to send.
WISE was developed as a separate entity from Pravica as an open-source app, where users can review codes and guarantee that their keys are safe, secure, and private.
Our goal is to make WISE available as an open-source solution for the Stacks community. We genuinely believe it will help developers easily build more Mobile dApps on top of Bitcoin and accelerate the onboarding process for new users.
We also wanted to offer Developers a vastly convenient method for simple hassle-free authentication with their Stacks ID. WISE is a straightforward tool and solution to simplify monotonous arid issues faced by Developers. Users own their data, and can easily take them from app to app.
With this new authentication method, the user experience is improved, and there are no risks and complexities involved. WISE has the advantage of not needing to rely on any carrier or Wifi; users can retrieve their seed phrase and digital ID anytime, anywhere without the need for internet access.
With data theft and security breaches increasing exponentially, security and security tasks are more important than ever. Yet cybersecurity—and in particular, authentication workflows—have some of the worst UX around.
We eradicated the problems and annoyance of some of the most common UX issues, with research and development toward technologies, combined with increasing computing power and ambient user data, culminating in developing WISE – a cutting-edge, user-friendly authentication, identity management, and key management product.

What the Future Holds
Wallet – Without owning your keys, you wouldn't really be in control of your coins. WISE crypto wallet for all your digital assets will enable users to send and receive cryptocurrencies and NFTs, stacking of STX, stacking pools, and delegation. It will store secret keys securely and encrypt them locally so that users can own their keys.
Before launching the final version of WISE, we will conduct a code cleaning phase, then push the whole project to be completely open-source and a free tool for the Stacks community and ecosystem. We anticipate it will be ready by Q4, 2021.
---
About Pravica
Pravica is a unified, secure, and privacy-compliant communication suite that meets WEB 3.0 standards, is secured by Bitcoin, and uses Blockchain technology to empower user privacy and security for personal and enterprise use of all types and sizes. We combine our incalculable technical capabilities with the cutting-edge technology of Blockchain to provide unparalleled private and secure digital human interactions to transform the way people communicate.